♫ It's beginning to look a lot like Christmas... ♫ and here, in the office, we are feeling very festive. In between designing new collections, we have been discussing our Christmas traditions and it has been lovely to hear how everyone celebrates Christmas in their own special way. Read on to discover what they are (and how to share yours with us afterwards): 
"Ours is very much a 3-day event. We always read The Night Before Christmas on Christmas Eve with my family (this now includes skyping one of my sisters in Singapore).  Christmas Day is rather traditional: we attend morning mass for carols, followed by eating lots and then falling asleep watching Christmas films. On Boxing Day every year, without fail, the whole family and cousins go to our Grandmama's for a festive lunch and take the dogs out for a long walk."


"My family celebrate a traditional Polish Christmas, with present giving and the meal taking place on Christmas Eve. We have fish instead of turkey for our Christmas meal and we always leave an empty seat at the table just in case someone needs shelter and a hot meal. After dinner, Santa turns up at the door with gifts. Now I have children of my own, we incorporate British traditions into our celebrations."
"One thing I will be doing with my little girl, and which I did even before she was born, is enjoying sitting on the sofa under a blanket together watching Polar Express"


"On Christmas Day, we open our stockings, eat far too much chocolate, watch TV and when everyone is up, we open presents. After this, we all dress quite smartly for dinner (it inevitably is dinner) and start cooking and then, of course, eat. Boxing Day starts with a nice bracing walk followed by films and games or visits to family further afield."
"As I was a Christmas-time baby, family tradition is that all decorations are up for that on the 17th December. We always listen to the carols from King's College, Cambridge on Christmas Eve while doing preparation work in the kitchen for our Christmas meal. Christmas morning is celebrated with something sparkly in a glass after breakfast and if the weather allows, we go for a winter walk on Christmas afternoon to burn off some of the calories.There is always a family phone call at some point on Christmas Day to wish everyone who is not present a Happy Christmas."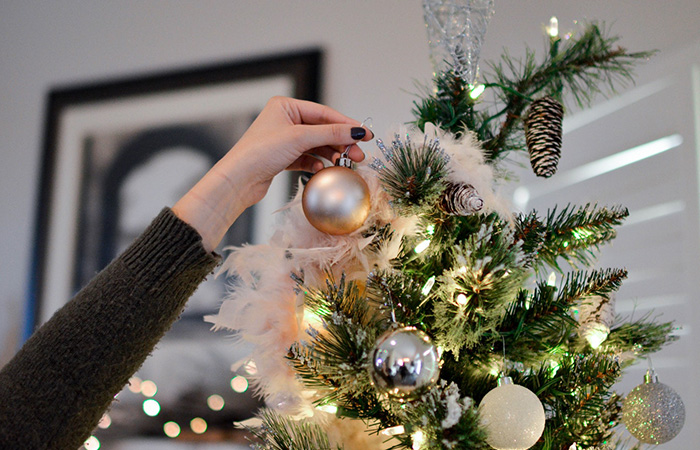 "A panto or stage production is always a Christmas must for us. This year we are seeing the CHRISTMASAURUS in London, which is an amazing children's book that is now a stage show. I read this book to the little ones last year and it has replaced the Night before Christmas that we used to read to our eldest daughter."
"We always go to Church on Christmas Eve for the crib service and if we are at home for Christmas Day, Father Christmas has a hole in his pocket and climbs up and down the stairs at our house dropping chocolate money coins which the kids love collecting up and following the trail of coins to the fireplace where they usually find what looks like snowy footprints and sparkle on the hearth with, of course,  the half-eaten mince pie, chomped-up sprout and carrot for Rudolph, the sherry gone and presents!"
"My husband is usually awake very early and speaks to my Dad on the phone. Dad only cooks once a year at Christmas and they share a long distance port while preparing the turkey, giblets and trimmings! A male bonding moment there for them at usually 4.30am! I get a lie-in if I am lucky and usually get woken by lots of giggles and excitement and so it begins! The magic of Christmas always arrives when the kids wake up and the lounge becomes a mass of unwrapped wrapping paper and presents!"
"We usually have smoked salmon and scrambled egg for breakfast which the kids help with; lots of smashing eggs and whisking!  We then Skype friends and family abroad with Christmas messages, followed by a late lunch and then usually a chilled film with turkey sandwiches in the evening. A walk on Boxing Day is our tradition, which is usually followed by visits to either friends or family."


Do you have any Christmas traditions? We'd love to hear them! Share them with us by leaving a comment using the box below.
For more interesting updates and special offers, sign up for our email newsletters here >